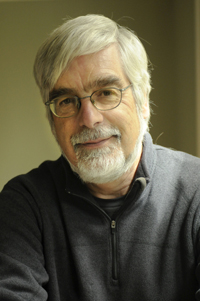 Don Colburn grew up in Massachusetts and lives in Portland, Oregon. A longtime health reporter for The Washington Post and The Oregonian, and a finalist for the Pulitzer Prize in feature writing, he became interested in poetry while on a mid-career Knight Fellowship at Stanford University. He has come to view poetry and journalism as two ways of truth-seeking, two sorts of reporting on the world and witnessing the human condition.
Colburn is the author of five poetry collections, all published as a result of winning or placing in national manuscript competitions. His newest volume, Mortality, with Pronoun Shifts, won the 2018 Cathy Smith Bowers Chapbook Contest. His first chapbook, Another Way to Begin, won the Finishing Line Press Poetry Prize, and his full-length book, As If Gravity Were a Theory, won the Cider Press Review Book Award. His poems have appeared in more than a dozen anthologies and in magazines such as Atlanta Review, Comstock Review, The Iowa Review, The Nation, Nimrod, Ploughshares, Poetry Northwest, Southern Poetry Review and Windfall.
A Phi Beta Kappa graduate of Amherst College, Colburn has an MA in journalism from American University and an MFA from the Warren Wilson College Program for Writers. His writing honors also include the Discovery/The Nation Award, the McGinnis Award, the Duckabush Prize for Poetry and the Blethen Award for Distinguished Newspaper Reporting. He has received fellowships from the Centrum Arts Foundation, The MacDowell Colony and Yaddo, and three Pushcart Prize nominations. He's a former board member of Friends of William Stafford.